A New New Berry for Pittsfield
By: Staff Reports On: 05:23PM / Thursday February 04, 2010
PITTSFIELD, Mass. — The Central Block's getting a new tenant in New Berry Place, a sweets and gift shop moving into the front window on North Street.
The name should be easy to remember since it recalls the long-gone J.J. Newberrys that carried about everything you can imagine and lunch, too.

We ran into owner Joseph Mele as he stopped in to see how construction was going. Mele once owned Joe's Lunchbox and operated a corner market in Pittsfield. He thinks the location and the variety of merchandise will fit well on this end of North Street.

Mele's prime ingredient will be Gifford's Ice Cream, a premium Maine brand that won for World's Best Chocolate at last year's World Dairy Expo. Mele says the ice cream is available at Harry's Supermarket locally so it has name-brand awareness among Pittsfield residents.


He's not depending on ice cream to get him through the cold months. The shop will also offer wide range of gift items at less than $20 and greeting cards. It will also stock some convenience items such as toothpaste and Kleenex, making it easier for residents and visitors alike to grab dessert and necessities after a night at the nearby Beacon or Shiro's.

New Berry is expected to open by spring. The space had been used by Richmond Networx, which has relocated to an interior office in the Central Block.
Persnickety Expanding to North Street
By: Staff Reports On: 10:47AM / Friday January 15, 2010
NORTH ADAMS, Mass. — Persnickety is expanding to Pittsfield. One of New England's top toy stores will take over the space being vacated by USBluesware on North Street.

But don't worry, the Eagle Street landmark isn't moving out. "This is my baby right here in North Adams," said owner Monique Suters on Thursday. "We're just starting a new location."

Suters was approached by USBluesware owners Giora Witkowski and Linda Mitchell two years ago about opening a toy store in their downtown building. The women had read about the store, which features educational and interactive toys, when it was selected as the Best Toy Store in New England for 2007-2008 by New England Travel & Life. But Suters said it just wasn't the right time to consider expanding.

USBluesware will close up shop on Feb. 27. The store sold "gently used" high-end clothing and accessories from designers such as Louis Vitton, Armani and Chanel. The Witkowski and Mitchell are ready to retire, they told Rural Intelligence.
They hadn't forgotten their offer to Persnickety a few years before. Suters said her ad in Berkshire Living prompted them to contact her again: This time was the right time.

"We were invited by USBluesware, they sought me out when we won the best toy store in New England," she said. "It was a patient waiting game for them to fill all their retail spaces and retire."

The new space is about 1,400 square feet, said Suters. "Just enough I think to do what we want to do." The store won't be a duplicate of the North Adams Persnickety, she said, but instead it will do its best to reflect the tastes of Pittsfield. It will likely have a larger train selection and will do a customer survey to stock items they want most.

She's excited about the transformation of the Pittsfield's downtown area over the past few years and positive about the store's future there: "No question: it'll be a success."

Suters is shooting for an early April opening. USBluesware, meanwhile, is holding a liquidation sale of up to 75 percent off.

Mighty Michelle Obama Shopper Is No. 1 Bag at Blue Q
By: PRWeb On: 11:14AM / Monday January 11, 2010
Barack Obama's approval rating is good. Michelle Obama's approval rating is better. And Blue Q's Mighty Michelle Obama Shopper is the No. 1 bag at Blue Q.
PITTSFIELD, Mass (PRWEB) Jan. 10, 2010 — Barack Obama's approval rating is good. Michelle Obama's approval rating is better. And Blue Q's Mighty Michelle Obama Tote is the No. 1 bag at Blue Q.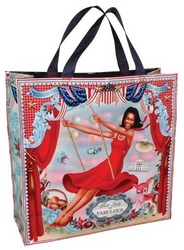 Mighty Michelle Obama Shopper bag designed by British illustrator Fiona Hewitt.
Mitch Nash, co-owner and Art Director of Blue Q says, "They are selling well in red and blue states. We make lots of these bags, but this was the first topical one we've done. We wanted to give it a fantasy feel, to have it embody the feeling of the country being on the upswing."
Since its introduction in October, The Mighty Michelle Obama Shopper has become record breaking seller for the specialty wholesaler.
The bag is not only eye catching but also eco-friendly as it is made of 95 percent post consumer material and 1 percent of the sale of all Blue Q bags and water bottles support the conservation work of the Nature Conservancy.

Big Y to Workers: Take 'Vacation'
By: Staff Reports On: 05:08PM / Tuesday December 15, 2009
NORTH ADAMS, Mass. — Big Y Foods Inc. last week announced that it was asking its full-time employees to take voluntary layoffs. The Chicopee-based grocery chain sent a press release to certain media, it was reported in Masslive on Thursday. iBerkshires did not receive a statement from the company and a phone call to coporate headquarters on Tuesday to confirm if Berkshire County stores were included was not immediately returned.

The chain has three stores in Berkshire County: Adams, North Adams and Great Barrington. It operates 57 stores in Massachusetts and Connecticut.

According to several media outlets that received the statement, the voluntary layoffs were to begin on Monday. The chain has 9,100 workers to did not say how many were full time or how many would be asked to take time off.

The chain closed its East Hartford, Conn., store a year ago, laying off 100 workers, and shed 300 more two months later, saying it was part of a new operational strcture.

According to the company's Web site, it was ranked the second largest employer in Western Mass. in 2006 by Business West and as the eighth-largest private company in the area by Boston Business Journal.
Prime Outlets Sold
By: Tammy Daniels On: 10:50AM / Monday December 14, 2009
The largest public real estate company in the nation as purchased the Prime Outlets Acquisition Co. and some of its entities, including the Prime Outlets in Lee, for $2.35 billion.

The sale was announced Tuesday, Dec. 8, on the PRNewswire. Simon Property Group Inc. is an S&P 500 company (NYSE: SPG) based in Indianopolis that operates regional malls, The Mills, community/lifestyle centers and international properties. It currently owns or has an interest in 385 properties comprising 262 million square feet of gross leasable area in North America, Europe and Asia, and employs 5,000 worldwide.

It has added Prime Outlets' 22 locations totaling more than 8.2 million square feet of retail space. As of June 30, 2009, Prime Outlets' centers were 92 percent occupied and generated annual sales per square foot of approximately $370. The Lee location is one of the smaller holdings at 224,519 square feet.

More information on Simon is available at www.simon.com.