Mighty Michelle Obama Shopper Is No. 1 Bag at Blue Q
Barack Obama's approval rating is good. Michelle Obama's approval rating is better. And Blue Q's Mighty Michelle Obama Shopper is the No. 1 bag at Blue Q.
PITTSFIELD, Mass (PRWEB) Jan. 10, 2010 — Barack Obama's approval rating is good. Michelle Obama's approval rating is better. And Blue Q's Mighty Michelle Obama Tote is the No. 1 bag at Blue Q.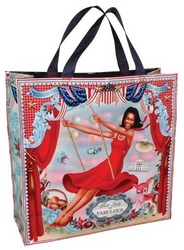 Mighty Michelle Obama Shopper bag designed by British illustrator Fiona Hewitt.
Mitch Nash, co-owner and Art Director of Blue Q says, "They are selling well in red and blue states. We make lots of these bags, but this was the first topical one we've done. We wanted to give it a fantasy feel, to have it embody the feeling of the country being on the upswing."
Since its introduction in October, The Mighty Michelle Obama Shopper has become record breaking seller for the specialty wholesaler.
The bag is not only eye catching but also eco-friendly as it is made of 95 percent post consumer material and 1 percent of the sale of all Blue Q bags and water bottles support the conservation work of the Nature Conservancy.

Big Y to Workers: Take 'Vacation'
NORTH ADAMS, Mass. — Big Y Foods Inc. last week announced that it was asking its full-time employees to take voluntary layoffs. The Chicopee-based grocery chain sent a press release to certain media, it was reported in Masslive on Thursday. iBerkshires did not receive a statement from the company and a phone call to coporate headquarters on Tuesday to confirm if Berkshire County stores were included was not immediately returned.

The chain has three stores in Berkshire County: Adams, North Adams and Great Barrington. It operates 57 stores in Massachusetts and Connecticut.

According to several media outlets that received the statement, the voluntary layoffs were to begin on Monday. The chain has 9,100 workers to did not say how many were full time or how many would be asked to take time off.

The chain closed its East Hartford, Conn., store a year ago, laying off 100 workers, and shed 300 more two months later, saying it was part of a new operational strcture.

According to the company's Web site, it was ranked the second largest employer in Western Mass. in 2006 by Business West and as the eighth-largest private company in the area by Boston Business Journal.
Prime Outlets Sold
The largest public real estate company in the nation as purchased the Prime Outlets Acquisition Co. and some of its entities, including the Prime Outlets in Lee, for $2.35 billion.

The sale was announced Tuesday, Dec. 8, on the PRNewswire. Simon Property Group Inc. is an S&P 500 company (NYSE: SPG) based in Indianopolis that operates regional malls, The Mills, community/lifestyle centers and international properties. It currently owns or has an interest in 385 properties comprising 262 million square feet of gross leasable area in North America, Europe and Asia, and employs 5,000 worldwide.

It has added Prime Outlets' 22 locations totaling more than 8.2 million square feet of retail space. As of June 30, 2009, Prime Outlets' centers were 92 percent occupied and generated annual sales per square foot of approximately $370. The Lee location is one of the smaller holdings at 224,519 square feet.

More information on Simon is available at www.simon.com.
Gramercy Moving to MoCA
Tiny Gramercy Bistro is expanding its operation with a move to the Massachusetts Museum of Contemporary Art campus on Feb. 1.

The Marshall Street eatery has signed a lease to take over the dining room and catering kitchen in Building 11. The space was occupied by Mezze Inc.'s Cafe Latino for a number of years before closing at the end of its lease agreement in September. Cafe Latino was the second restaurant Mezze had at Mass MoCA, after the high-concept 11 did poorly. A ice cream and sandwich cafe LIckety Split is located inside the main museum building.

"We really look forward to growing our business at MASS MoCA," said chef and owner Sandy Smith. "The new space will nearly double our seating capacity and allow us to significantly expand our catering reach. We'll expand our hours of operation to offer not just dinner but also lunch and brunch. We are very excited about the new possibilities."

Gramercy Bistro opened at 24 Marshall in 2001 and has steadily grown since.

"We're pleased that Gramercy Bistro, having decided to grow, chose Mass MoCA as the site for its expansion. Gramercy is a fantastic restaurant and great contributor to the vitality of North Adams. The benefits are many: the campus will have a high-quality and well-seasoned restaurant operator, and Gramercy will be able to grow and provide the opportunity for a new venture to take root on Marshall Street," said Mass MoCA Executive Director Joseph C. Thompson.

Smith said he intends to begin renovations on the space immediately and open it to the public around Feb. 1. The current location will remain until the move occurs. He doesn't think the Marshall Street location will be empty for long.

"It's a great location right between the downtown, the hotels, and the museum, and has served us well for years. We see this as a great chance for a qualified restaurateur to add a little more flavor to the downtown dining scene," he said. "If someone great comes along, we'd be happy to transfer the Marshall Street lease. And if not, we've got several new concepts of our own for that space that we could undertake ourselves, once we get the new Gramercy at Mass MoCA up and running."

"This announcement is not only beneficial to MASS MoCA but also to the entire North Adams dining community," said Mayor John Barrett. "Sandy Smith is recognized as running one of the premier restaurants in Northern Berkshire County. Equally important is his catering expertise, which he can grow with the larger kitchen and prep spaces that this move will afford."

Mayor John Barrett III said he was concerned about losing a downtown restaurant "but I was reassured by Sandy that he would either secure a new operation at the restaurant's current site on Marshall Street or open a new type of restaurant in that space."

The new Gramercy Bistro will be open for lunch and dinner, six days a week (closed Tuesdays), and will be open seven days a week in July and August.
It's All Talk in Pittsfield
Bill Sturgeon
"Talk Berkshires" on WBRK 1340-AM is expanding its lineup with "Midday Live" hosted by local radio personality and Berkshires native Bill Sturgeon.

"We are excited about Bill coming onboard. He is the epitome of local talk radio and this is really good for WBRK and the community," said Sherman Baldwin, host of "Talk Berkshires," which launched in May and quickly became one of the more active media outlets in the region.

Baldwin says the "immense success" of "Talk Berkshires" made expanding an obvious next step in local talk show format.

Sturgeon's a criminal justice consultant, working with various divisions of the U.S.
Department of Justice for more than 25 years. His areas of expertise include management,
operations, training, security, emergency management, special operations and first-line supervision. He's also been an instructor and expert witness, and has written widely on security, terrorism, correctional
management, and emergency management. He is co-author of "No Time To Play: Youthful Offenders in Adult Corrections" and "Recess is Over: Managing Youthful Offenders In Adult Systems."

He's been hosting an open mike show on Mondays and Tuesdays on WBRK over the past year. Now he'll be heard five days a week from 10 to 1.

The addition of another block of three-hour local talk ("Talk Berkshires" runs from 3 to 6 p.m.) points to the committment of Baldwin and WBRK President Chip Hodgkins for local news coverage at a time when many stations are turning to canned music or nationally syndicated talk shows.

"We're bucking the trend by adding more local talk. It is an investment into our radio station and
the community," said Hodgkins.

Sturgeon also writes a blog at corrections.com.