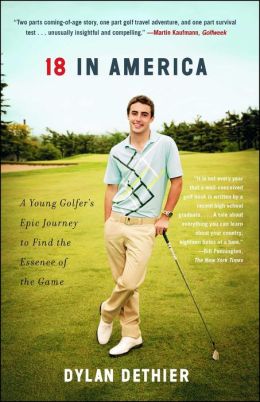 WILLIAMSTOWN, Mass. — Mount Greylock Regional High School graduate and published author Dylan Dethier was the subject of an interview on National Public Radio's Weekend Edition this weekend.
Dethier chatted — and played a round of putt-putt golf — with NPR's Scott Simon while promoting his book, "18 in America: A Young Golfer's Epic Journey to Find the Essence of the Game."
The book is a the product of Dethier's
trip around the country
to play a round of golf in each of the lower 48 states during the "gap year" following his graduation from Mount Greylock in 2009 and his enrollment at Williams College in 2010 as a freshman.
Now a rising senior at the college, Dethier saw his book published in May by Simon and Schuster.
Scott Simon asked the 2013 Division III All-Northeast Region selection about his all-time favorite hole and about the cultural significance of the game itself.
"It's a game of possibility," Dethier told NPR. "So even in these places where people seemed to have lost hope, there was this possibility of things getting better the next hole, or the next day, because golf has this way of bringing people back."
You can hear the full interview
here.