Chinese Garden Unveiled at Naumkeag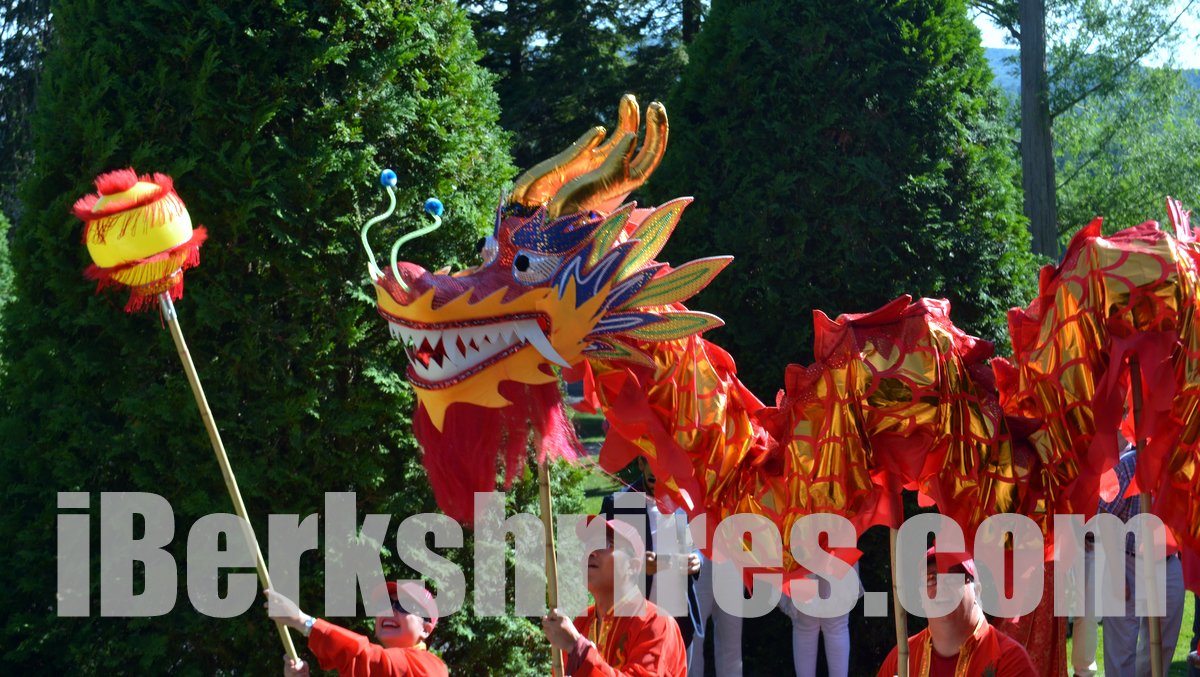 STOCKBRIDGE, Mass. — Hundreds gathered at the annual Naumkeag Afternoon Garden Party on Saturday to celebrate the newly renovated Chinese Garden.
Barbara Erickson, Trustees of Reservations president and CEO, welcomed honorary co-Chairs Yo-Yo Ma and his wife, Jill Hornor, and Naumkeag staff to celebrate the unveiling of newly-renovated Chinese Temple Garden and the 125th anniversary of the conservation group.
"We believe that Naumkeag is more than a cultural icon. It is a work of art perched on the edge of 46 acres of pasture, woodlands and gardens,"Erickson said. "The artisans here made this masterpiece a national landmark what it is and we feel their work is worth preserving for all of time."
Erickson said through restoration efforts of the estate once owned by New York City lawyer Joseph Hodges Choate, visitation has grown by 70 percent and revenue has grown by 133 percent.
After Asian-inspired hors d'oeuvres, attendees followed Chinese Dragon Dancers to the Chinese Temple Garden, the final garden to be restored in the $3.3 million garden and landscape restoration.
"This remarkable garden took over 20 years to develop beginning with Mabel Choate's (Choate's daughter) trip to the Far East, where she surrounded herself in Hawaiian, Japan and Chinese cultures in 1935," Erickson said. "Mabel desired a traveler's garden bringing home to America foreign life and habits to enrich our ways here."
"It took 20 years to just build one garden room," she said. "Every small detail conceived, then every small detail restored by us 60 years later."
Famed cellist Yo-Yo Ma, who maintains a home in the Berkshires, said he looked back fondly on his time in the garden and was happy to see it restored.
"My wife Jill and I are so grateful that we have spent many an hour with our children walking through the tranquil beautiful gardens of Naumkeag for several decades," Ma said. "Now to see this fully restored and renovated is an extremely wonderful, joyous occasion."
He added that Naumkeag is just another mark of the rich culture in the Berkshires.
"Many of you know the story as a child if you dig a hole deep enough you get to China," Ma said. "Well, in this case, you don't have to dig that deep and you actually not only find China, but you find the world ... you just need to dig a little bit in the Berkshires and you will find the world."
The historic eight-acre property, which dates to 1885, has undergone a major renovation over the past three years, pulling funds from grants and donations. The 44-room house, designed by noted architect Stanford White, is surrounded by gardens developed largely by Mabel Choate particularly in later years with designer Fletcher Steele. Choate bequeathed the estate to the Trustees of Reservations.
The Trustees used historic documents to restore the overgrown gardens and deteriorated structures to their former glory, including the well-known Blue Steps.
Ma closed by commenting on how the garden transcends ownership and is shared by all those who hold a passion for it and are inspired by it.
"When something extraordinary is created what belongs to one family or community becomes part of a nation, becomes part of its shared history and part of even the heritage of the world," Ma said. "So it is now with the stewardship of a passionate community working together tirelessly with the Trustees to restore the exquisite gardens to their former living glory."
Tags: gardens, historic preservation, naumkeag, Trustees of Reservations,
Support Local News
We show up at hurricanes, budget meetings, high school games, accidents, fires and community events. We show up at celebrations and tragedies and everything in between. We show up so our readers can learn about pivotal events that affect their communities and their lives.
How important is local news to you? You can support independent, unbiased journalism and help iBerkshires grow for as a little as the cost of a cup of coffee a week.
iBerkshires.com welcomes critical, respectful dialogue; please keep comments focused on the issues and not on personalities. Profanity, obscenity, racist language and harassment are not allowed. iBerkshires reserves the right to ban commenters or remove commenting on any article at any time. Concerns may be sent to info@iberkshires.com.