Wahconah's 118 Graduates Urged to Follow What They Love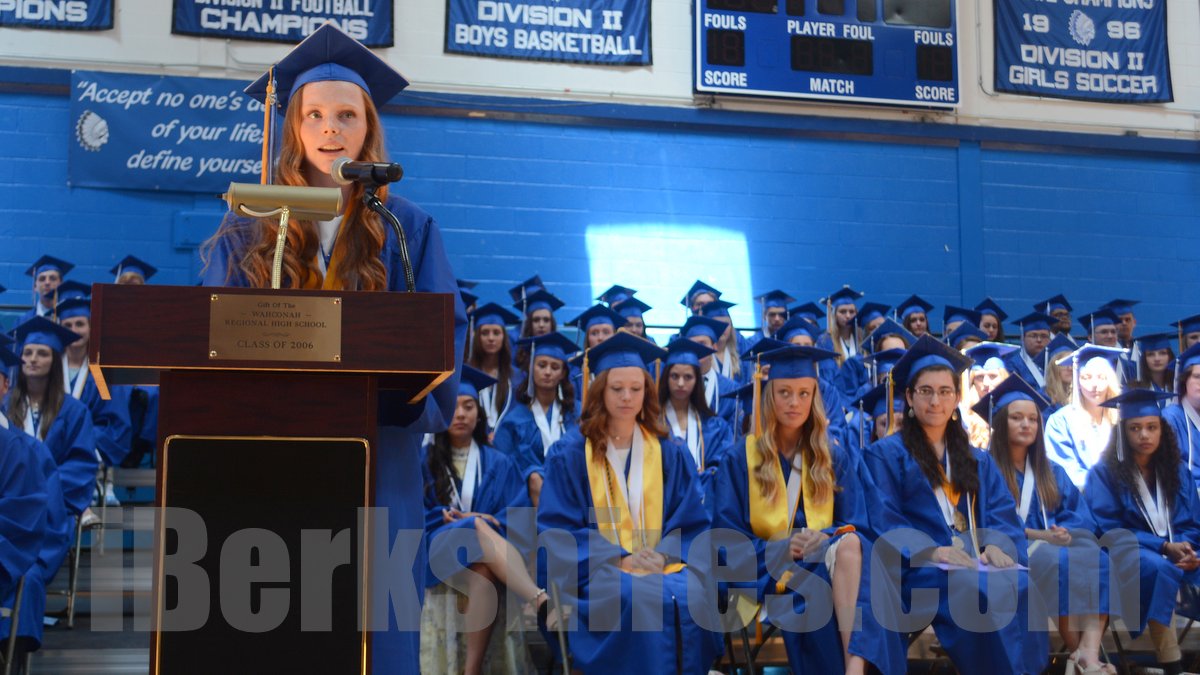 DALTON, Mass. — The Wahconah Regional High School Class of 2018 was asked to follow what they love and continue to define themselves.
The class motto that was hung above the 118 graduates in the school's gym was a present theme throughout Sunday's graduation ceremony and instead of defining the legacy of the class, Principal Aaron Robb asked the class members to define themselves
"The quote is quite fitting in spite of the finality of graduation and the end of your public schooling career you remain unfinished with 90 percent of your life ahead of your ... I hope you look back on your time here fondly, but I fully expect that the best years of your life are ahead of you."
The graduates chose the quote "Accept no one's definition of your life; define yourself" by poet Robert Frost and although Robb told them they have changed the school and made it a much more inclusive place, their true legacy lies beyond the halls of Wahconah Regional High School as individuals.
"There are members of this class who will go on and accomplish great things whatever they may be and there are members of this class who are going to experience hardships whatever they may be," he said. "Some may experience both but in the end, I hope you can find a way to craft a life that best fits your dreams and desires and that you lead a life that has a positive impact on those around you."
Before the diplomas were handed out and the streamers flew, the class heard from its President Emily Cullett who said because of the closeness of the school, district and communities the class of 2018 is left with a host of memories
"Participating, competing, volunteering and performing all together has given us friendships that we will always remember," she said. "I believe that is the best part about going to school. The grades are important but at the end of the day it comes down to the memories."
She added that these opportunities, experiences and memories will help the class of 2018 define themselves as individuals as they embark on the next chapter of their lives.
"The class of 2018 is filled with brilliant young minds that will soon become the faces of the real world," she said. "We are bold and we always will bleed blue…when we enter this new chapter and continue to define ourselves and use everything that we have gained here at Wahconah."
Salutatorian Hannah Ronayne compared high school to a ladder.
"Many people have been on a ladder before. A ladder is usually used to get to a destination, maybe a roof, maybe a tree but most likely it's used to get to a higher place," she said. "It can be scary to move up a ladder, so people often take their time. One of the greatest things about climbing a ladder is being able to look at your surroundings and see things from a new perspective."
She went on to say that although the class has reached the top of this ladder, there will still be more to climb.
"We have moved up the ladder and grown from small, scared freshman into strong, confident, and sometimes sassy seniors," she said. "We have left our mark on Wahconah as we have accomplished so much over these past four years, living and learning together along the way. But our journey does not end here. We may have climbed to the top of this ladder, but many different ladders await us in our future."
Valedictorian Amber Topping said graduation has likely been something each member of her class has been wishing for some time now, but she asked that instead of wishing for things, the class of 2018 try to live in the moment."
"Throughout all of our years tougher we spent the majority of time wishing for things to come and to go. This is not out of the ordinary," she said. "Wishing for Friday, wishing for summer, wishing for a snow day and wishing for good grades but as much as we wish for ourselves we can never be sure of anything."
She left her class with some advice: when you do wish, wish for the larger but simpler things such as happiness that will make your future brighter.
"We all made it here to this very day that is something to celebrate so don't waste time right now worrying about the future because we have plenty of time for that," she said. "Take time to celebrate what you have achieved so far ... and now we have to start wishing for the bigger things ... that will support our futures."
Superintendent Laurie Casna, who spoke toward the end of the ceremony, echoed some of Topping's thoughts and charged the class of 2018 to do what is important to them.
"Think about what really matters to you what do you want your life to be about," she said. "Not necessarily the job, the location or the salary but what truly matters to you and when you decide on that stick with that and be unapologetic in accomplishing that."
Tags: graduation 2018, WRHS,