Rotary Fashion Show Pairs Chemises With Charity
GREAT BARRINGTON, Mass. — Jodphurs are in this season. So are tribal prints, recycled bamboo and medallion sandals.

All of this and much more was on display at Great Barrington Rotary Club's 2nd annual spring fashion show and auction held at Crissey Farm on Friday night. More than 80 people, among them the who's who of Great Barrington retailers, enjoyed an evening of Mediterranean munchies, mineral make-up and, of course, haute couture by Wearhouse, Mainstreet, T.P. Saddleblanket and Great Barrington Bra and Girl.

"It's a win-win situation," said Doone Marshall, owner of Body and Soul. "We want to be a presence here. These people do wonderful things for the community. It's really the best form of advertising."

There was no shortage of wares (or wears) at the show. Tables representing local businesses were laden with goods. Glass jewelry by Saskia Larraz glinted alongside pink lip stain offered by Facehaven. In addition to items for sale, the silent auction offered a plethora of local highlights including tickets, handbags, spa treatments and several nights out on the town, all in the spirit of giving.

"The Rotary really doesn't talk about what we're doing in the community," said President Elizabeth Hamilton. "We just do it."

Lingerie helped the Great Barrington Rotary raise funds.
Indeed the club has many irons in the charitable fire. The fashion show joins other annual Rotary Club fundraisers (Tri-State Bowling Tournament, pancake breakfasts and the Drive for Scholarship Golf Tournament) to benefit local organizations such as Fairview Commons, Construct Inc. and the Railroad Street Youth Project to name a few. Additionally the club gives away more than $40,000 a year in scholarships for area high school students.

Jane Iredale, founder and owner of Iredale Mineral Cosmetics Inc. that sponsored both this and last year's show, made a humble nod toward generosity before announcing the looks of the evening.

"I feel very honored to be asked to do this," she said.

Amid camera flashes and delicious desserts, models wended their way through a mesmerized crowd, flaunting bright colors and the latest in Berkshire fashion. Setting the tone (literally) for the evening was the Great Barrington Bra and Girl collection, which emphasized soft, draping loungewear in coral hues.

"It's very Cape Cod, very beachy," said GBBG co-owner April Burch. "The color is a rich coral; the first bud of summer."

The T.P. Saddleblanket collection intermixed with the coral with splashes of deep turquoise set against flowing faux suede. The effect was a look rooted in American Indian culture and design. In fact, many looks at the show paid tribute to tribal designs. Models from Wearhouse strutted dramatic black and white printed Ikat tank tops as well as flowing silk halter dresses in fuchsia and coral. Shoe styles ranged from shiny patent-leather equestrian boots to medallion encrusted, high-heeled sandals, providing a little something for every fashion taste in the room.

"There are definitely more men here this year," Burch said. "I wonder if it has anything to do with the lingerie."
Pittsfield Movie Gallery Closing
PITTSFIELD, Mass. — The city's losing one of its video rental stores with the closing of the Movie Gallery on Dalton Avenue.

Movie Gallery Inc. filed for reorganization of its American holdings under Chapter 11 bankruptcy at the beginning of February and announced the closure of nearly a third of its Movie Gallery, Hollywood Video and Game Crazy stores across the United States.

According the restructuring announcement on its Web Page, Movie Gallery said the liquidation and closures of 760 stores are "because they are not profitable and because funds from liquidating them can help us moving forward."

The Dalton Avenue store is selling off its inventory and should close within four to six weeks.

The closings do not affect the Hollywood Video on Merrill Road or the Movie Gallery in North Adams in the L-shaped mall. Also closing is the Movie Gallery at 68 Mohawk Trail, one of two Greenfield, and two stores in the Albany, N.Y., area.

Movie Gallery is the second-largest video and game renter after Blockbuster but it's been hammered by changes in rental services, particularly by upstarts like NetFlix and Redbox. This is the company's second bankruptcy in the past three years. The first shuttered at least 400 locations including the Movie Gallery in the Stop & Shop Plaza in North Adams.

The company, which once had more than 3,000 stores, expects to reduce to a stable "core" of 900, which means more closures are likely. The chain had $129 million in losses in the fourth quarter of 2009.
A New New Berry for Pittsfield
PITTSFIELD, Mass. — The Central Block's getting a new tenant in New Berry Place, a sweets and gift shop moving into the front window on North Street.
The name should be easy to remember since it recalls the long-gone J.J. Newberrys that carried about everything you can imagine and lunch, too.

We ran into owner Joseph Mele as he stopped in to see how construction was going. Mele once owned Joe's Lunchbox and operated a corner market in Pittsfield. He thinks the location and the variety of merchandise will fit well on this end of North Street.

Mele's prime ingredient will be Gifford's Ice Cream, a premium Maine brand that won for World's Best Chocolate at last year's World Dairy Expo. Mele says the ice cream is available at Harry's Supermarket locally so it has name-brand awareness among Pittsfield residents.


He's not depending on ice cream to get him through the cold months. The shop will also offer wide range of gift items at less than $20 and greeting cards. It will also stock some convenience items such as toothpaste and Kleenex, making it easier for residents and visitors alike to grab dessert and necessities after a night at the nearby Beacon or Shiro's.

New Berry is expected to open by spring. The space had been used by Richmond Networx, which has relocated to an interior office in the Central Block.
Persnickety Expanding to North Street
NORTH ADAMS, Mass. — Persnickety is expanding to Pittsfield. One of New England's top toy stores will take over the space being vacated by USBluesware on North Street.

But don't worry, the Eagle Street landmark isn't moving out. "This is my baby right here in North Adams," said owner Monique Suters on Thursday. "We're just starting a new location."

Suters was approached by USBluesware owners Giora Witkowski and Linda Mitchell two years ago about opening a toy store in their downtown building. The women had read about the store, which features educational and interactive toys, when it was selected as the Best Toy Store in New England for 2007-2008 by New England Travel & Life. But Suters said it just wasn't the right time to consider expanding.

USBluesware will close up shop on Feb. 27. The store sold "gently used" high-end clothing and accessories from designers such as Louis Vitton, Armani and Chanel. The Witkowski and Mitchell are ready to retire, they told Rural Intelligence.
They hadn't forgotten their offer to Persnickety a few years before. Suters said her ad in Berkshire Living prompted them to contact her again: This time was the right time.

"We were invited by USBluesware, they sought me out when we won the best toy store in New England," she said. "It was a patient waiting game for them to fill all their retail spaces and retire."

The new space is about 1,400 square feet, said Suters. "Just enough I think to do what we want to do." The store won't be a duplicate of the North Adams Persnickety, she said, but instead it will do its best to reflect the tastes of Pittsfield. It will likely have a larger train selection and will do a customer survey to stock items they want most.

She's excited about the transformation of the Pittsfield's downtown area over the past few years and positive about the store's future there: "No question: it'll be a success."

Suters is shooting for an early April opening. USBluesware, meanwhile, is holding a liquidation sale of up to 75 percent off.

Mighty Michelle Obama Shopper Is No. 1 Bag at Blue Q
Barack Obama's approval rating is good. Michelle Obama's approval rating is better. And Blue Q's Mighty Michelle Obama Shopper is the No. 1 bag at Blue Q.
PITTSFIELD, Mass (PRWEB) Jan. 10, 2010 — Barack Obama's approval rating is good. Michelle Obama's approval rating is better. And Blue Q's Mighty Michelle Obama Tote is the No. 1 bag at Blue Q.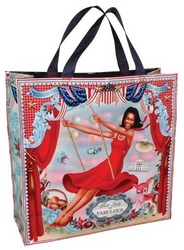 Mighty Michelle Obama Shopper bag designed by British illustrator Fiona Hewitt.
Mitch Nash, co-owner and Art Director of Blue Q says, "They are selling well in red and blue states. We make lots of these bags, but this was the first topical one we've done. We wanted to give it a fantasy feel, to have it embody the feeling of the country being on the upswing."
Since its introduction in October, The Mighty Michelle Obama Shopper has become record breaking seller for the specialty wholesaler.
The bag is not only eye catching but also eco-friendly as it is made of 95 percent post consumer material and 1 percent of the sale of all Blue Q bags and water bottles support the conservation work of the Nature Conservancy.