NBCC Celebrates 36 Years, Recognizes Staff & Volunteers at Annual Meeting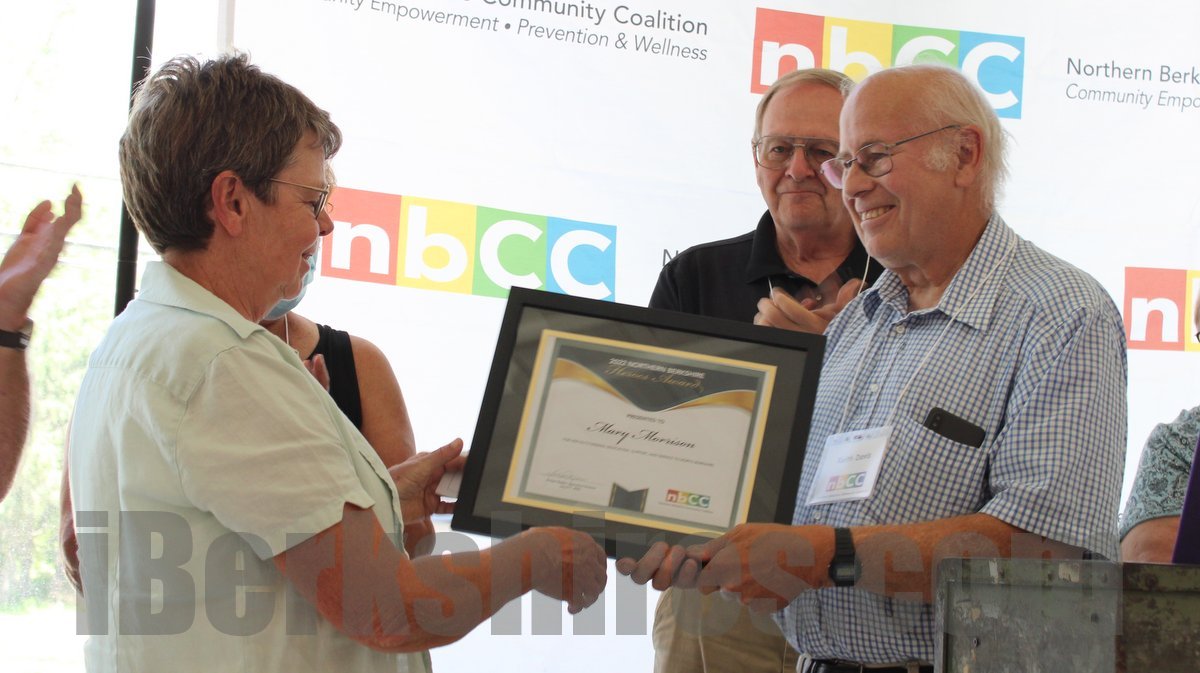 NORTH ADAMS, Mass. — The Northern Berkshire Community Coalition on Friday celebrated 36 years of empowering the community.
This year alone, it's engaged nearly 800 residents and stakeholders in seeking solutions to social issues, collaborated with more than 150 organizations, given out 191 backpacks filled with supplies to schoolchildren, served nearly 300 youth in teen programming, and offered leadership training, and family and parenting programs for hundreds.
"It's hard not to be thoughtful about all that transpired over the last few years and reflective about how change can bring both challenges and successes to our work," said Executive Director Amber Besaw at the coalition's annual meeting held at Greylock Works. "Our dedicated staff had truly put their heart into their work and have been continually rebuilding our programming for the community the way that it should be -- creative, engaging and more accessible."
Besaw and outgoing board President Jennifer Civello recognized the members of the board, the staff and the individuals and organizations that had helped in bringing annual meeting together for the first time since the pandemic.
Jonathan Butler, president and CEO of 1Berkshire, offered insights from the Berkshire Benchmarks project.
"Some good things, some bad things and things we should all be conscious of," he said. "But the big news here is Berkshire Benchmarks is a resource. It's a data tool that provides free data on over 72 different indicators from all different walks of life in Berkshire County and that can be used by all your organizations."
Originally a Berkshire Regional Planning Commission project, it was relaunched by the Berkshire Leadership Impact Council with an eye to looking beyond the typical sectors like economic development, immigration and transportation.
"A couple of themes that we focus on are adopting a shared vision and agenda from the county strengthening the regional web of relationships, networks and communication, attempting to align in advance efforts that increase collaboration across sectors," he said. In 2019, the council partnered with other organizations to develop better data for the benchmarks. "The site's been overhauled to support more intuitive presentation and regional indicators focused on specific sectors."
Butler said the were some key indicators from the report: First, the county has seen a increases in income and decreases in poverty and unemployment. But there's also issues with children struggling academically during the pandemic, housing becoming less affordable and mental health challenges getting worse.
"A healthier environment can increase the ability of the young adult population in the virtues. As a region, we can and should celebrate successes," he said. "Many individuals and organizations have contributed to these positive developments. I would imagine all of you in this room in some way, shape or form in the last decade. And it's important that we celebrate our successes to continue moving forward."
However, he added, "there is an increase of reports of families living in distress in Berkshire County and any of the indicators show disparity in economy when looking at the data by race and ethnicity.
"By working together to address these problems, virtual economy can become a healthier, more equitable and more welcoming community."
The meeting also recognized outstanding individuals for their community efforts. The Martin Luther King Jr. Day of Service had to be canceled so the presentation of the Peacemaker Award was held at the luncheon.
Alex Daugherty of the Martin Luther King Day Committee made the presentation to Kerri Nicoll of Williamstown as exemplifying the teachings of Dr. King.
The associate professor of anthropology, social work and sociology at Massachusetts College of Liberal Arts has been active in the community and has been working on the Williamstown Cares project, a community research project to "better understand the safety and well-being" in the town. Nicoll volunteered her time conceptualizing the Cares project and has provided her expertise in analysis and is also a member of the Diversity, Inclusion and Racial Equity Committee.
"I believe Kerri has been working hard to center the most marginalized people in our society and in our community, using her privilege and expertise to advance important work," Daugherty said. "Even amongst the challenges, Kerri has been a leader and support to the community."
Nicoll said she felt "incredibly honored" to receive the award but also wanted to note that many others have been working with her on the Cares project and felt they, too, shared the award.
[The DIRE] Committee itself grew out of grassroots demands for racial equity and justice in our community," she said. "The Williamstown Cares project was designed by and continues to be shepherded by a group of social workers who have dedicated countless hours and really deep and profound expertise to this project. And I share this award with them."
Dr. King's idea was that if we want to live in an equitable and adjust community, we need to work in equitable and just ways to get ourselves there, Nicoll said. "In the words of activist and writer Valerie Kaur, we build the beloved community by becoming a beloved community. This is what we're trying to do with the Cares project."
The Northern Berkshire Hero Award was presented to Mary Morrison, a volunteer and board secretary for Northern Berkshire Habitat for Humanity. Habitat's Keith Davis, Mark and Cynthia Vadnais, Stephen Bailey, Cheryl Shanks, and Carol Witek made the presentation.
"Not all heroes wear a cape. Nor did they always leap tall buildings in a single bound ... we in Northern Berkshire Habitat for Humanity have our very own super woman. She reaches to the top of tall buildings, but the difference is she starts with the foundation," said Davis.
Her work swinging a hammer "barely scratches the surface," he said. "Mary is a true community hero and an individual who constantly and consistently improves the lives of others within Northern Berkshire and we here greatly benefit from her tireless work."
Morrison said there were two real joys she's gotten out of working with Habitat.
"I enjoy every single family I've worked with, I've enjoyed getting to know them as we work through the project. They're wonderful people and I'm really happy that we were able to get them in a home, giving them the opportunity that they deserve," Morrison said. "The second real joy for me is working with the construction volunteers. I look forward to every work day. It's just a fun time working with this crew."
Two MLK Day of Service Creative Writing Awards were also presented to two youth for their origina works that exemplify and were inspired by King's "I Have a Dream" speech. This year's recipients were Riley Aiken and Leo Duffy, both students at Pine Cobble School in Williamstown. Aiken attended and read his speech.
The luncheon was broken up with a "scavenger hunt" as participants searched through the brochure and year-in-review pamphlet to answer questions and each attendee received a $5 coupon to the North Adams and Williamstown Farmer's Market.
The work of the Bike Collective was recognized by the "raffling off" of a bicycle to friend, neighbor or NBCC client of their choice.
Tags: annual meeting, NBCC, recognition event,