Wahconah Regional Graduates Told It's Time to Be Brave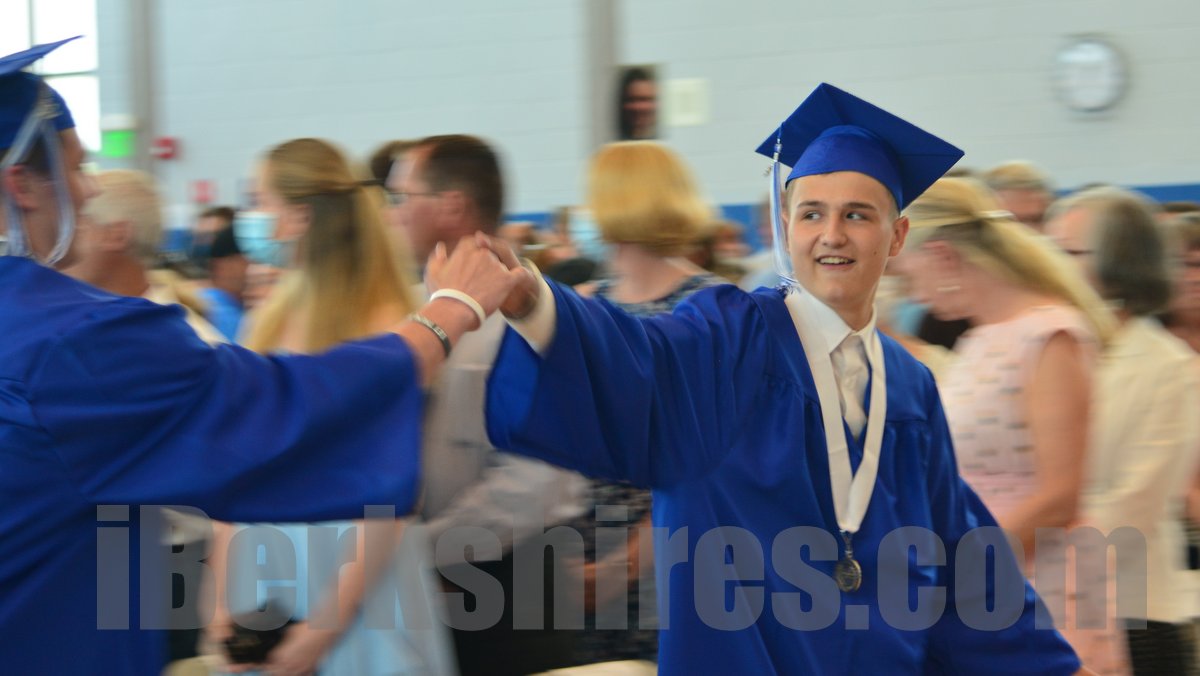 DALTON, Mass. — Wahconah Regional High School celebrated the class graduating for the first time in the new school and honored the hard work and pioneer attributes that they displayed during their time there.
The graduates and choir harmonized the national anthem to commence the graduation exercises in the high school gym. Valedictorian and Class President Quinn Walton welcomed the guests that gathered to commend her classmates and praised the opportunities this new school has provided them.
Walton noted that this year's graduates 102 were the first to walk the halls of the new high school that opened in October and set the tone for all future graduates.
"We were the first class to eat lunch on our new back patio, decorate our new hallways on the last day of school, and celebrate this monumental occasion in our new gym," Walton said.
"We have been blessed with the newest, most advanced school building in the county and in turn, we have worked hard throughout this school year to adapt to our new technology and learning spaces."
Salutatorian Julianne Kieper expressed how, despite COVID-19 and the uncertain times, the graduates were able to overcome the challenges to define themselves and the school that they are moving on from.
"Despite years of uncertainty, cancellation after cancellation, and a long wait for things to go the way we wanted them to, we persevered. We didn't ask for these challenges, but we overcame them, and are here today, about to graduate," Kieper said. "Wahconah helped define us. But we also helped define Wahconah."
Walton urged during her speech the importance of memories and being true to oneself. She conveyed the importance of continuing to be brave in the obstacles that they will face on their next journey.
"Moving forward, the purpose is to make as many memories as possible. And that is scary. Everything changes today. We're leaving the state of life that we have grown to be comfortable with," Walton said. "High school is over. We're adults, and we have choices to make. We have made memories here, but now it is time to make more. We need to be brave."
She said bravery portrays itself in a lot different ways and that the graduates were brave through the pandemic and by being at the forefront of the new school. They will continue to be brave as they march into their futures, whatever it may hold, she added.
"Bravery is sitting in the common room on the first day of college, waiting for somebody to walk in. Bravery is signing up for the military, pushing yourself physically and mentally to accomplish something great. Bravery is advocating," Walton said. "We can be the generation that is brave enough to create a new vision for our world, who can keep up with constant advances, and who can anticipate and take advantage of the amazing and sometimes expected changes in our futures."
Central Berkshire Regional Superintendent Leslie Blake-Davis commended the seniors for all hard work they did that has developed them into leaders and prepared them for their next step.
"I am saying that I've been incredibly impressed by all that was motivated by your heart and was at the root of your actions," Blake-Davis said. "I have watched as you encouraged and shared your friends supported each other through difficult decision making, and live the hard work around speaking up through inequities that you felt deeply. For this note that I'm extremely proud."
Principal Aaron Robb thanked the staff for their educating the students during the uncertain times that the pandemic and the new school transition caused.
He also thanked the students parents and guardians and added that graduation is not for the students.
"Graduation is really not for you. It's for your families, and certainly provides closure for you and for your families is the fulfillment of a dream as a parent," Robb said. "And, I reminded our graduates at rehearsal, that when they were born, within the days, hours or even minutes of their birth, their parents started to envision their children celebrating two important milestones in their life: graduation and someday, marriage."
In the past, he said, he would tell the students going on the path into military to be careful but this year he felt the need to urge all the students to be careful, especially those going into the medical field and those who choose to become educators, due to COVID-19 and the amount of school shootings happening in America.
Robb told the parents and the graduates to close their eyes and think about what he said. He gave the graduates and families one last homework assignment and told them to reflect on one moment that they made them proud and to share it with each other immediately after the ceremony.
Each graduate walked one by one to receive their diplomas as they were applauded by their loved ones. The graduates stood tall with diploma in their hand as a confetti gun blasted blue and white celebrating the end and initiating the next chapter of their lives.
Wahconah Regional High School class of 2022
Owen Luke Alfonso
Brennan Francis Andersen*
Owen James Baker
Errol Avery Bates
Kendall Renee Benlien*
Karen Rose Betit
Maxwell James Boland
Zackary Robert Lucien Bondini
Samuel John Broderick
Gralyn Renee Brophy
Nathan Jasper Brown
Joshua David Burrows
Philip Hunter Bushee
Blake Anthony Casella
John Michael Cebula
Ashley Greame Chaffee
Ethan James Clark
Darrin Michael Cloran
Hannah Marie Connelly*
James Anthony Connors
Luna Salome Correa
Joshua David Dagenais
Chad Scott Daniels
Luke Thomas DiCicco*
Jason Eric Dion
Joseph Michael Diver
Cody Gerard Doyle
Scott Peter Duma
Leah Christina Duquette*
Ellis Vincent Eberwein
Eva Raine Eberwein*
Grace Alexandra Elliott
Kevin Timothy Esko
Carolyn-Emily Piper Filiault*
Emily Paige Fontaine
Aryianna Elizabeth Garceau
Britney Nicole Gaudette
Wyatt Thompson George
Bailey Nicole Goodrich
Sophie Annabelle Gordon*
Devyn Lee Haley*
Alexander James Harrington
Sharlyse Kristen Henshaw*
Lillian Ruth Himes
Arlynn Rea Keefner
Juliane Carolyn Keiper*
Noah James Kelly
Arianna Roe Kendall
Riley James Kiernan
Katelyn Rose Kmon
Elizabeth Dawn Kruck
Colton Brooks LaCross
Patrick Joseph Lorenz
Hayley Lynn Lorette
Kiara Quartiz Merna Lytle
Nicholas Barrett Marshall
Kara Lynn McCaul
Matthew Brian McCormack
Jillian Rylee Menard
Maria Eduarda Rodrigues Meneses*
Tyler Owen Miller
Claire Elizabeth Naef*
Brynn Decoteau Neal
Dylan Michael Nawton
Caleb Yem Nhim
Shealyn Isabel Nopper
Benjamin Tower Noyes*
Bradley Nolan Noyes
Joseph-Litner William O'Neill
Logan David Osorio
Joseph Caden Padelford
Lilly Pearl Patton*
James Cole Pierce
Mae Natalie Pollard
Sara Bryanna Portieri
Collin Douglas Quintero
Ella Colleen Quinto
Logan Michael Renderer
Madeline Elizabeth Reichers*
Lily Marie Robb*
Colin Michael Sosier
Nicolas Richard Salinetti*
Logan Michael Sargent
Dominic James Scalise
Ryan Anthony Scott
Tristen James Sheldon
Molly Dayna Shippee*
Dylan Aleksandr Smith
Gavin Casey Sommers
Jocelyn Rose Sommers*
Connor Andrew Stetz
David Anthony Striebel
Makayla Ann Torrey*
Quinn Rose Walton*
Jayden Michael Warner
Brett James Wasuk
Peyton Marcus Webb
Olivia Helen Wehner
Drew Richard Wendling*
Aiden Ryan Wesley
Benjamin James West*
Marshall Douglas Williams
*National Honors Society
Tags: graduation 2022,