Hoosac Valley Class of 2023 Asked to Live in the Moment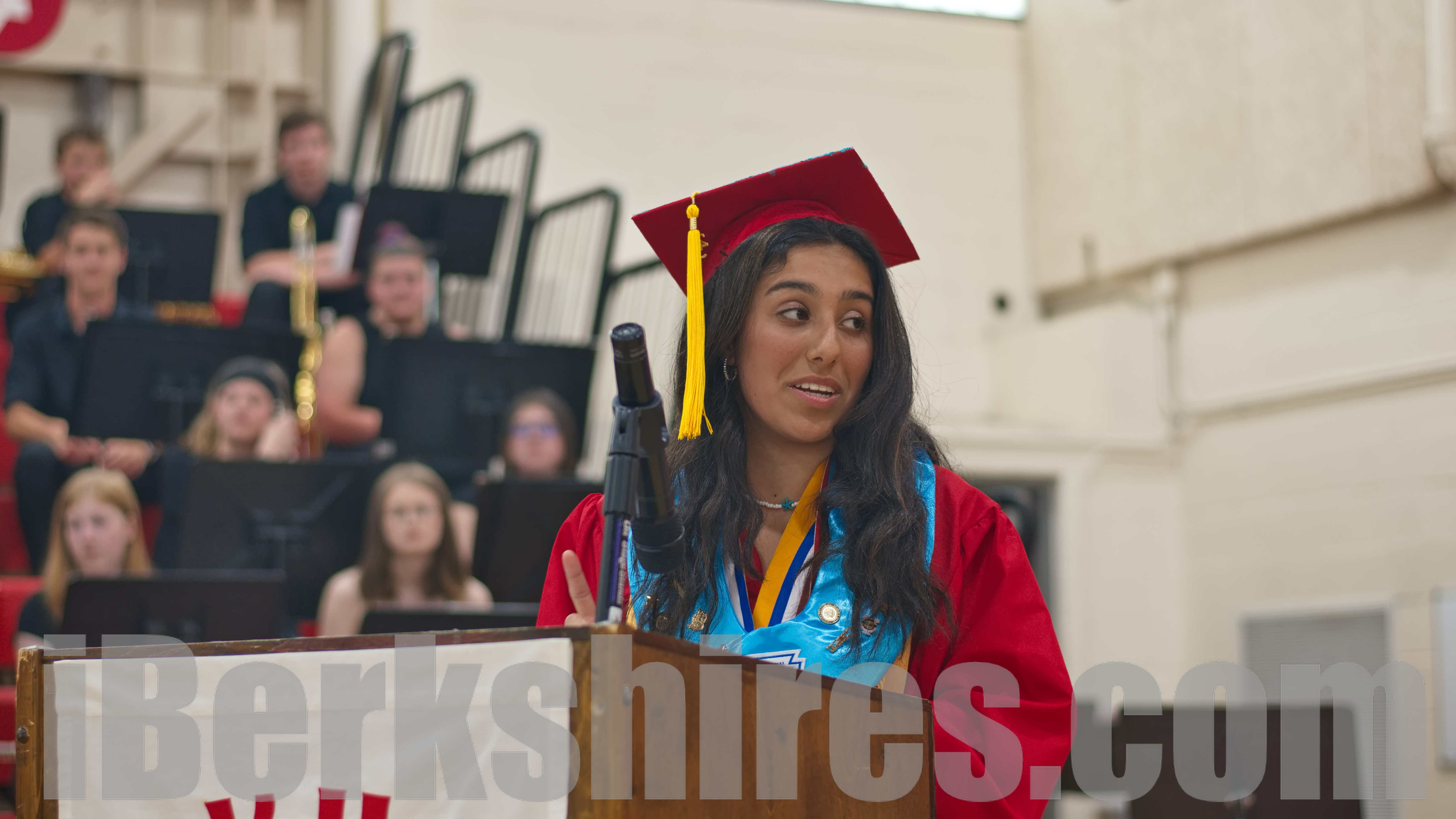 CHESHIRE. Mass. — Salutatorian Tia Kareh asked the 50 members of the class of 2023 on Friday to not rush out of the Hoosac Valley High School gymnasium at the end of the graduation ceremony but to take a second to dwell in the moment.
"All those years ago we began as a collective … now, we have developed our own personalities, built our values, grown into the individuals we are today, and fight over who's taking shotgun in car rides," she said. "We grew up cherishing our time and making memories that will last a lifetime. What was once one month left until graduation, turned into one week, one minute. But we never realized how much we would want another minute."
She recalled collective memories: important bonds with teachers who were friends, mentors, and providers of snacks when "bored and hungry in third-period study hall."
She noted that the class of 2023 is the first to graduate without any COVID-19 restrictions since 2020 and relished in the return to normalcy at the back end of their high school career. She did ask the class to not dwell in this dark spot that plagued the early part of their high school experience.
"We can not control what we lost or what we know we deserved to get, what we were told we would receive," she said. "... Today is not about looking back on the bad, but forward on the good … But one thing I want you all to take away from this is that we spend too much time wanting something to end, that we never appreciate it in the moment. So stay with me here, and be in this moment."
She closed by saying the class of 2023 must have faith and they must have hope. She asked her classmates to believe in themselves as they left campus one final time.
"We must have faith in the future, and most importantly faith in ourselves. Pursue what you want, what you deserve with passion and purpose because each of you sitting behind me, or in this room should never settle for mediocrity, but instead strive for more, because the sky's the limit," she said. "No matter what you choose or where to go, chase your dreams, and make a difference in the world. We are the change that we want to see."
Valedictorian Kathryn Sholz said the class of 2023 has learned how to adapt by navigating a portion of their high school careers through a pandemic.
"We persevered through the hard days and enjoyed the easy ones, but our path was not clear yet, as we got to start the summer of our freshman year three months early due to COVID," she said. "We took the road less traveled as we navigated zoom classes in our pajamas, hybrid classes with our specific cohorts, and eventually by the end of our sophomore year, full in person classes. So again we adapted and eventually succeeded, but not without the constant support of our teachers who were adapting right along with us.
She said upon returning to the actual classroom they were able to rediscover many school activities that they have taken for granted over the years. From the regular school musicals to sporting events, concerts, clubs and activities like the yearly bonfire.
Sholz added that as the class of 2023 moves out into the world, they can look back at their time at Hoosac Valley and know they are ready for anything.
"So as we chase our next adventure, I encourage us to remember all that we have adapted to over our high school career, every challenge we have overcome and persevered through," she said. "We know it is possible. Why? Because we have accomplished it again and again in the past. We have shown how we can adapt to anything in our way."
Principal Colleen Byrd, Superintendent Aaron Dean and School Committee Chairwoman Bethany DeMarco-Gaylord presented the graduates with their diplomas.
The high school band played the processional, recessional, as well as the national anthem. Before closing the ceremony, the band played the Hoosac Valley High School song.
The Hoosac Valley High School class of 2023
Violet Marshall Adelt
James Christopher Bailey
Logan Gregory Baker
Haley Magdallena Beliveau + **
Gabrielle Nicole Billetz + **
Donald Emery Bradley
Kadan Xavier Burdick *
Ian Michael Cappiello + **
Alyson Kate Civello **
Jolynn Davis + **
Travis Michael Deblois Jr.
Megan Elizabeth Dubreuil + **
Owen Gregory Dubreuil + **
Abigail Eileen Ferris
Mia Angelina Francesconi + **
Mikayla Ann Gates
Jamie Emily Gero
Danielle Lynn Glasier *
Trinity Rebecca Greer + **
Hannah Marie Harding
Cole Robert Hayes
Ryan Scott Holland
Nakiya Marie Hubbard
Tia Paul Kareh + **
Chloe Marie King + **
Ava Denise Kleiner
Alana Jo Levesque
Samantha Jo-norma Loholdt + **
Alexis Marie Malloy + **
Katherine Ann Martin *
Makayla Ray Martin *
Antonio Michael Millard **
Allison Nicole Murphy
Zoe Ann Parrott **
William Henry Pellerin Iii
Michael David Prendergast + **
Taylor Elizabeth Reynolds
Kayleigh Rose Richard
Briannah Rose Rowett *
Madison Christina Salas
Zack Gordon Sawyer + **
Evan Anthony Scarpitto *
Kathryn Elizabeth Scholz + **
Trinity Elizabeth Shovelton **
Tyler Suleski
Matthew James Szabo + **
Michael Edward Szabo *
Genevieve Kateri Tassone
Logan Edward Terrien + *
Anelia Carolina Ziaja + **
+ National Honor Society * Honors **High Honors
Tags: graduation 2023, HVHS,